By Heather Clancy
View the original article here.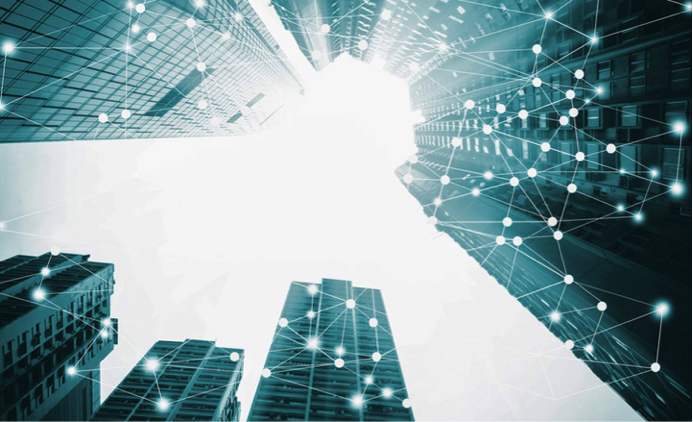 The phrase "Internet of things" has become a convenient catch-all for all manner of technologies that carry this common characteristic — they're capable of sharing their data not only with each other but also with other information technology systems, enabling far deeper insights into how well they're running and what's going on around them.
In 2015, more than 15.4 billion gadgets fell into this uber category, according to data from market research firm IHS. That number could double by the end of 2020, and then again by the end of 2025. These "things" can be installed virtually everywhere, from factory floors to streetlights to water pipes — cities alone could spend at least $20 billion on sensor networks by 2020.
But one area to watch closely from sustainability perspective will be technologies related to buildings, both commercial and residential. Think of it this way: the Internet of things (aka IoT) is crucial for broader adoption of smart buildings. That will have big implications for how companies handle energy management. And for the next three years at least, IoT will be more pervasive in smart commercial buildings than anywhere else, suggests consulting firm Deloitte.
Things are certainly pointing up. Revenue related to installations of sensor-equipped lighting, climate control equipment, thermostats, and other automation systems could quadruple over the next decade to about $732 billion, predicts Navigant Research in a report published in early December.
"Connected or IoT devices in commercial buildings or homes enable a variety of applications and provide benefits related to automation, convenience, and, of course, energy efficiency — and these benefits are starting to resonate among building managers, homeowners, and even renters," said Navigant principal research analyst Neil Strother.
More evidence that interest becoming more serious: ABI Research predicts that revenue related to IoT-enabled smart building technologies should grow to more than $8 billion in 2020, compared with just $625 million last year. The bulk of that money will be related to smart lighting and "intuitive" HVAC control systems, according to the research firm.
"IoT platforms such as GE's Predix, IBM's Watson, and SAP's HANA, in collaboration with facility service providers, like CBRE, ISS World, and ENGIE, are gradually creating inroads by integrating multiple building automation systems to deliver a unified facilities management solution," said ABI analyst Adarsh Krishnan. "the 'make or buy' dilemma of whether to develop the solution in-house or collaborate with a third-party technology vendor."
What makes the transformation so hard, of course, is the long life expectancy of heating, ventilation, and air-conditioning systems — usually at least 15 years, and counting.
But leading manufacturers are working diligently to instrument and automate their systems through IoT hardware and software, so that commercial buildings can respond better to environmental stimuli or a company's energy efficiency policies. Here's a cheat sheet of 10 big players to watch closely in the upcoming year (presented alphabetically).
Cisco
Part of San Jose, California-based networking giant Cisco's "Internet of Everything" mantra is an energy efficiency concept it started pushing more aggressively in early 2016 called the "Digital Ceiling."
The idea is to consolidate smart lighting networks and other Internet-connected devices into a centralized dashboard that can be controlled via a smartphone application. The system includes smart lighting that doesn't require a separate electricity source—they are powered by the Ethernet network itself. Cisco lined up an impressive list of partners, including LED lighting pioneer Cree, to help evangelize the idea.
Hitachi
There's been plenty of buzz about the 106-year-old Japanese conglomerate's compelling business model for microgrids. Back in May, however, Hitachi began touting its IoT strategy, which is based on a technology called Lumada.
This platform will be relevant across a broad range of applications not just smart buildings, including connected vehicles, although details about the technology are just starting to emerge. "While it is still very early days in the IoT platform market, the landscape is crowded, making it difficult for new vendors to differentiate themselves," said Christian Renaud, an analyst for 451 Research. "Hitachi's extensive expertise in operational technology and IT gives them a unique understand of the fundamental requirements to build and deploy IoT solutions at scale."
Honeywell
Honeywell's IoT strategy already touches about 10 million smart buildings worldwide. One of the Morris Plains, N.J.-based company's latest forays is a mobile app — which sounds similar to technology from startup Comfy — that lets building occupants report issues with heating or cooling. Basically, people become "sensors" alongside digital counterparts such as sensor. "Occupant engagement is an increasingly important aspect of intelligent building solutions," said Navigant analyst Casey Talon.
IBM
The tech giant has been involved with a myriad of smart-this-and-that initiatives related to its Smarter Planet campaign. Now, IBM, based in Armonk, N.Y., is putting the firepower of its Watson artificial intelligence and data analysis software behind its projects that make buildings smarter.
One of its biggest customers for the technology is ISS, a facilities management company that will use Watson in more than 25,000 buildings to assess readings from sensors on windows, doors, chairs, food dispensers, air conditioning systems and so on. The sensors on doors, for example, can help commercial kitchens within these facilities figure out how many meals to cook for lunch, helping cut back on food waste. "Putting a 'human touch' in buildings helps to increase employee productivity, decrease absenteeism, and makes a better impression on visitors," said ISS CEO Jeff Gravenhorst.
Johnson Controls
Already a big proponent of the push to net-zero buildings and the idea that buildings should "talk" to each other, $37.7 billion Johnson Controls became an even larger force in IoT technologies when the Milwaukee, Wisconsin, company merged in September with security services firm Tyco. Johnson Controls allied with IBM on the smarter building cause back in 2010, and moved closer to Cisco earlier this year (it's one of several companies supporting the Digital Ceiling framework).
Legrand
The French-born electrical component manufacturer, which has been taking a deeper interest in sustainable business practices across its own operations, launched its IoT initiative dubbed ELIOT in November.
Legrand sees its technology as the glue tying together automation technologies from the likes of Samsung and Cisco. The effort even supports Alexa, Amazon's voice-controlled home automation gadget, which is being engineered to handle tasks such as adjusting lights or temperatures. It helps that $4.5 billion Legrand's sales for connected devices were more than $350 million in 2015, up 34 percent. "Legrand is built in, not simply plugged in," said Stephen Schoffstall, chief marketing officer for the company. "This distinction is critical when you consider that ELIOT is an expression of Legrand's determination to evolve the experience of living, working, and operating in buildings — and to minimize the impact those buildings will have on the environment."
Panasonic
The Japanese company is already a well-known player in green building technologies such as energy-efficient lighting, refrigeration, air conditioning, heating and renewable energy. Like its biggest peers and competitors, it is prioritizing investments that use data from these systems to help them run ever-more efficiently. One example is its agreement with Germany's Schneider Electric, announced in October, under with the two companies are collaborating on wireless technology that connects Schneider's building management system with Panasonic HVAC systems that use variable refrigerant flow (VRF) technology. Translation: the amount of energy they require can be adjusted more finely than previous generations of the equipment.
"By combining the power of building management with cutting-edge VRF technology, we are able to help our customers further reduce capital and operating expenditures and reach new levels of sustainability," said Toshiyuki Takagi, executive officer of Panasonic Corp., and president of Panasonic Air-Conditioner.
Schneider Electric
The energy management specialist, which has been especially vocal in the past about smart cities projects, overhauled its smart building product line called EcoStruxure in late November. You might think of Schneider first as a hardware company, but its partnership with cloud services giant Microsoft is focused on helping companies analyze operational data more efficiently. Its aforementioned partnership with Panasonic is also powerful.
Siemens
An emerging force in commercial and community microgrids, German conglomerate Siemens is also shoring up its IoT expertise. During 2016, it announced separate partnerships with IBM and consulting firm Capgemini to build even more credibility. The IBM pact centers on creating a cloud service to help corporate real estate managers gain access to energy efficiency metrics for their facility portfolios. The deal with Capgemini has a similar goal.
Verdigris Technologies
This San Francisco upstart is using artificial intelligence to collect information from a building's electrical panels and then analyze these "fingerprints" for opportunity to optimize settings and to predict possible maintenance issues that could boost power consumption.
Verdigris raised $6.7 million in an October venture capital round that was led by contract manufacturer Jabil and Verizon Ventures, bringing total funding to about $15 million. The company is doing well helping companies in the hospitality sector reduce electricity usage; Hyatt, Marriott, and Starwood Hotels are all customers.