By: Julie Lundin, LEED AP ID+C, IIDA
So, what does adaptive reuse mean in real life?
Adaptive reuse is when you go to an art gallery… in a former church, when you attend a community event… in an old barn, when you book a Costa Rican vacation and your hotel is made out of shipping containers! With the COVID-19 pandemic, the concept of repurposing the built environment has become even more important. Vacant office space becomes a healthcare facility. Hotels turn into healthcare worker housing. A shopping mall is suddenly a medical center.
As an interior designer, I have always been intrigued by adaptive reuse projects. Projects where a design team has expertly executed a vision for a forgotten run-down building or interior space and brought it back to life. They hold a special place in my heart. When the opportunity arose to purchase, design, and renovate an abandoned auto garage in Boca Raton to use as a live/work space, it was a dream come true. As an adaptive reuse project, the most important initial points of consideration begin with safety, accessibility, and compatibility. These basic points are relevant no matter what is being considered, from energy to building materials to assessing current building code requirements.
Keeping the form or structure of a building intact while changing its function is challenging. However, it can provide significant environmental and economic benefits. Adaptive reuse projects have utilized sustainable design concepts long before LEED and green building became popular. Adaptive reuse is one of the most maximized uses of recycling. The value of reuse, recycle and repurpose is intrinsic to these projects.
Benefits of Adaptive Reuse
Adaptive reuse is sustainable

Greenest building is one that already exists

Reduction in building materials needed to transform a space
Environmental Stability

Reduces energy consumption associated with demolishing a structure

And building a new one to replace it
Economic Stability

Potential cost benefits associated with greenfield development

Design and Construction Costs
Spaces may be useful for fledgling businesses

16% less costly than other forms of construction

Results in lower leasing rate
Faster than new construction

Renovated existing building ready for occupancy sooner
Preservation of local identity

Older buildings add and establish the character of local built environments

Preserves a local sense of place and authentic experience
Utilization of a previously developed site

Avoids development of greenfields

Utilizes existing utility infrastructure

Minimizes impact on watersheds and stormwater systems
Reusing existing building elements

Construction waste savings
Utilize the character of existing spaces and materials
Below is my adaptive reuse project story. I hope you enjoy it!
Auto Body Shop Transformed into Live-Work Gem in Sunny Boca Raton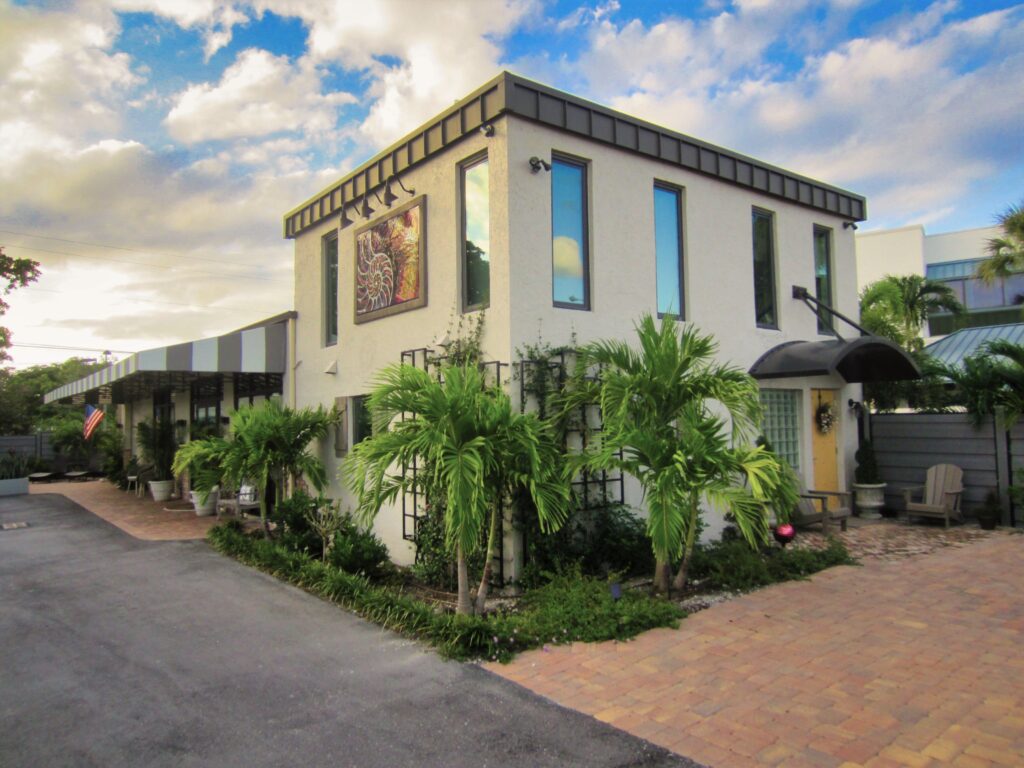 Boca Raton, Florida is well known for its affluent gated golf communities, manicured landscapes, and pristine beaches. Unlike cities such as Pittsburgh and Cincinnati where industrial is synonymous with the name, Boca's industrial area is inconspicuous. That is why the unexpected location of this industrial section is the perfect setting for a hidden gem, a distinctive live-work studio. What was once a run-down auto body shop with ground contamination was transformed into an office, studio, and residence. With a commitment and passion for design, the built environment, and sustainability, this industrial property has been repurposed into a warm, inviting, and environmentally friendly enclave.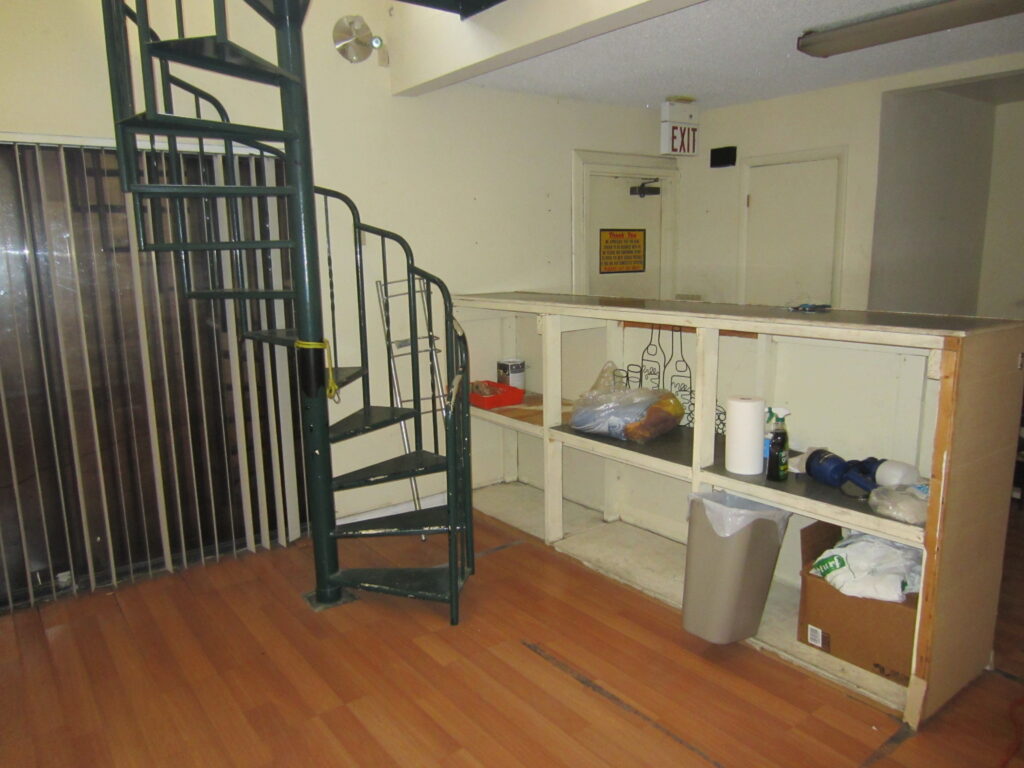 The base footprint of the building is 1,950 square feet. The front of the building houses the residential space which includes a kitchen, bathroom, open living space and a cozy loft which provides an additional 240 square feet. This portion of the building was designed to be self-contained with a separate entrance and electric meter should future usage needs change. A peek inside the space shows a metal spiral staircase leading to the loft. The spiral stairs were kept intact from the original body shop but painted a soft metallic gold as a nod to the design firm's name Golden Spiral Design.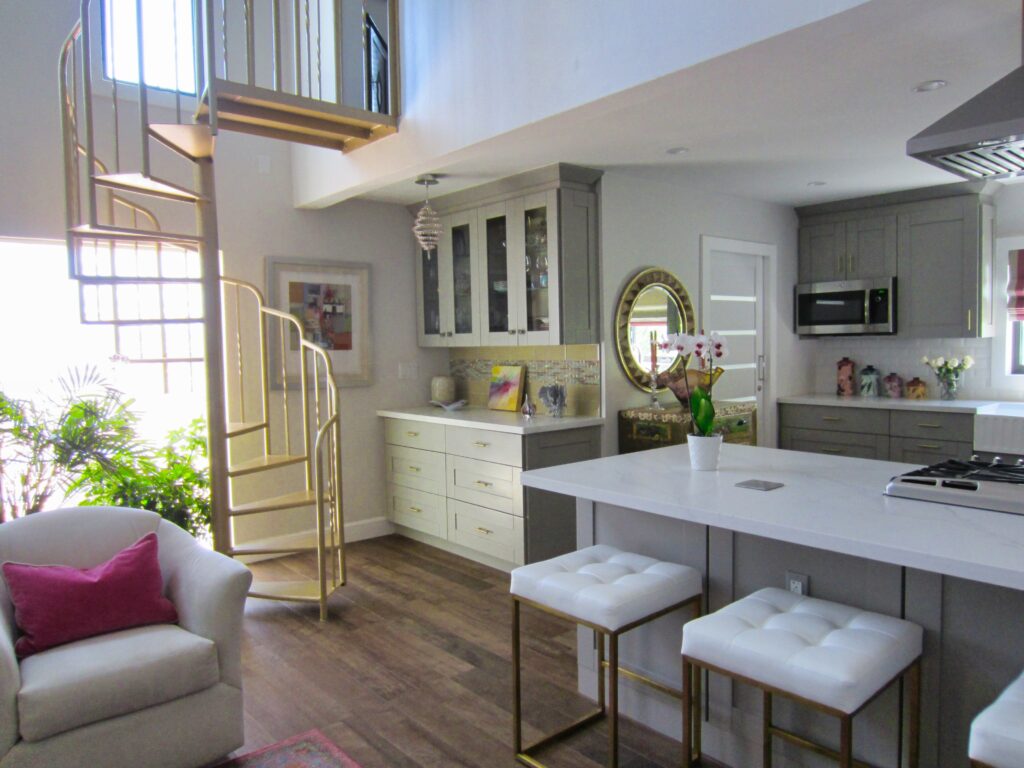 The small footprint of 1,950 square feet required creative design solutions to maximize the multi –
functionality of the space. The live work concept had to become truly integrated based on the building size. The residential component made sense to be in the front portion of the building which allows a separate entrance. The main auto garage became the office/studio but is designed as a flex space to accommodate large meetings or entertaining on the weekends. To delineate areas of the open space, furniture placement, lighting and plants were utilized.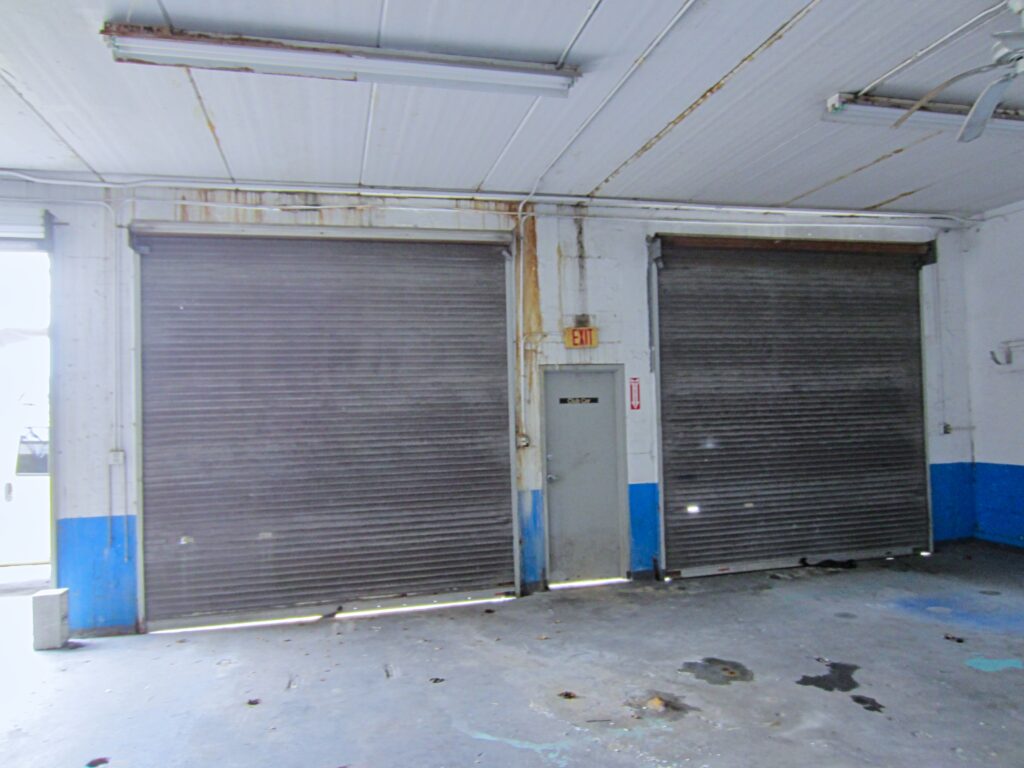 The back portion of the building was originally an auto painting stall and allows for privacy once the large, colorful barn door is closed. High gloss cabinetry was added for much needed storage and includes a murphy bed. This space also contains an added ADA bathroom, free standing glass shower, and washer and dryer.
The walls are painted a crisp white which showcase the concrete block walls, their inherent imperfection, and years of use. A modified exposed interior was created with galvanized metal soffits that hide electrical and air conditioning components. The three original overhead garage doors are still intact and used as metal shades for privacy and sun control. The garage concrete floors were polished and sealed still showing the shapes, imperfections, and natural patina of the building. Old Chicago brick was added to both the interior and exterior walls to emulate the character of old industrial buildings.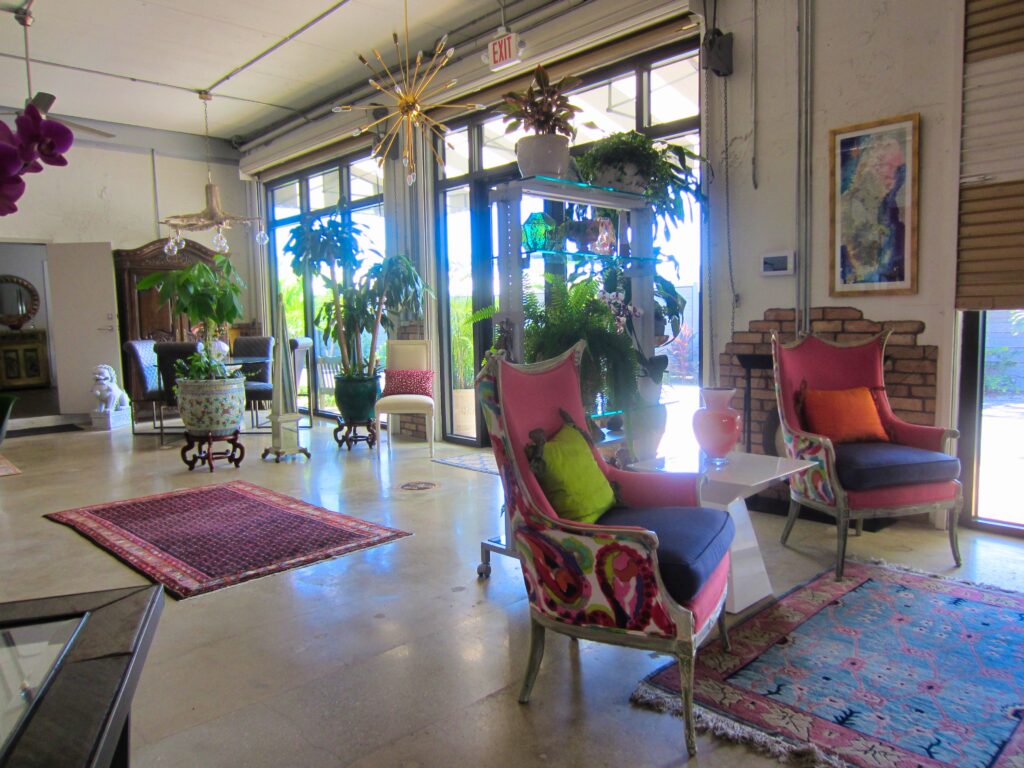 The grounds were designed to visually create an inviting enclave. Sustainable fencing was installed which offers privacy and security. The front apex, once an eyesore, is a green oasis with bronze trellises, jasmine vines, orchids, and a custom mosaic. Sustainable, resilient and energy efficient principles were applied throughout the design and specifications of this building.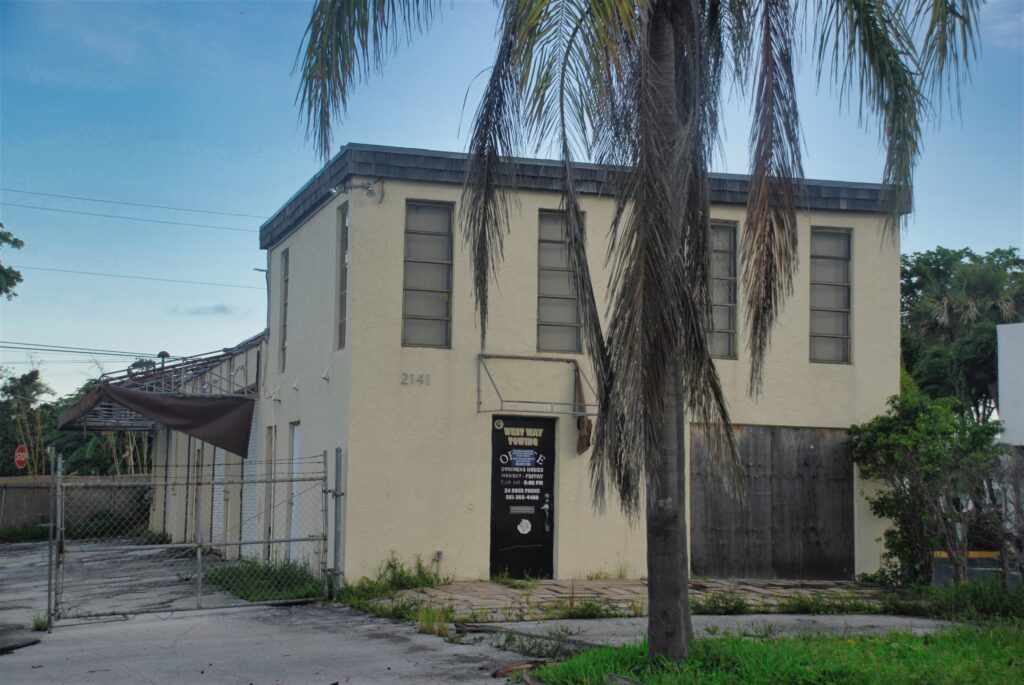 Below are key sustainable concepts that were utilized for this project.
Site Remediation
Construction Waste Recycling
Adaptive Reuse of Undesirable Property
Highly Reflective Roof and added Insulation
No additional Building Footprint added
Solar Panels and Battery Storage
Energy Efficient HVAC
Energy Efficient Windows
Energy Efficient LED Lighting
Low Flow Plumbing Fixtures
Energy Efficient Appliances
Recycling and Composting
Low VOC Paint and Finishes
Daylighting
Interior Plantscapes
Exterior Drip Irrigation System
Converting this building to a multi-use habitable space was both challenging and rewarding. It was important to design the space using the existing building footprint (bigger is not better), to remediate the undesirable brownfield, to take advantage of the industrial character, and to promote sustainability throughout the entire design process.
With the arrival of the COVID pandemic it has never been more important to have a healthy and safe place to work.  For questions about the adaptive reuse of this building – or the potential of a building you own – please contact me, Julie Lundin, at (561) 866-4741 or [email protected].