Published By: Start US Insights
View the original article here
Energy storage is undergoing a rapid transformation wherein research is underway to develop efficient long-lasting solutions. It is a critical component of the manufacturing, service, renewable energy, and portable electronics industries. Currently, the energy storage sector is focusing on improving energy consumption capacities to ensure stable and economic power system operations. Broadly, trends in energy storage solutions can be categorized into three concepts:
Moving away from the traditional lithium-ion batteries toward innovative battery chemistries that offer greater stability, density, and shelf life.
Developing storage solutions that store intermittent renewable energy efficiently and also scale it up to power large geographical areas.
Transitioning from centralized energy storage to a more flexible and portable distributed form of energy storage.
This article was published in August 2022 and updated in September 2023.
Innovation Map outlines the Top 10 Energy Storage Trends & 20 Promising Startups
For this in-depth research on the top global decarbonization trends and startups, we analyzed a sample of 1366 global startups & scaleups. This data-driven research provides innovation intelligence that helps you improve strategic decision-making by giving you an overview of emerging technologies and trends in the energy industry. In the Energy Storage Innovation Map, you get a comprehensive overview of the innovation trends & startups that impact your company.
Top 10 Energy Storage Trends in 2024
Advanced Lithium-Ion Batteries
Lithium Alternatives
Short Term Response Energy Storage Devices
Battery Energy Storage Systems (BESS)
Advanced Thermal Energy Storage (TES)
Enhanced Redox Flow Batteries (RFB)
Distributed Storage Systems
Solid-State Batteries
Hydrogen Storage
Energy Storage as a Service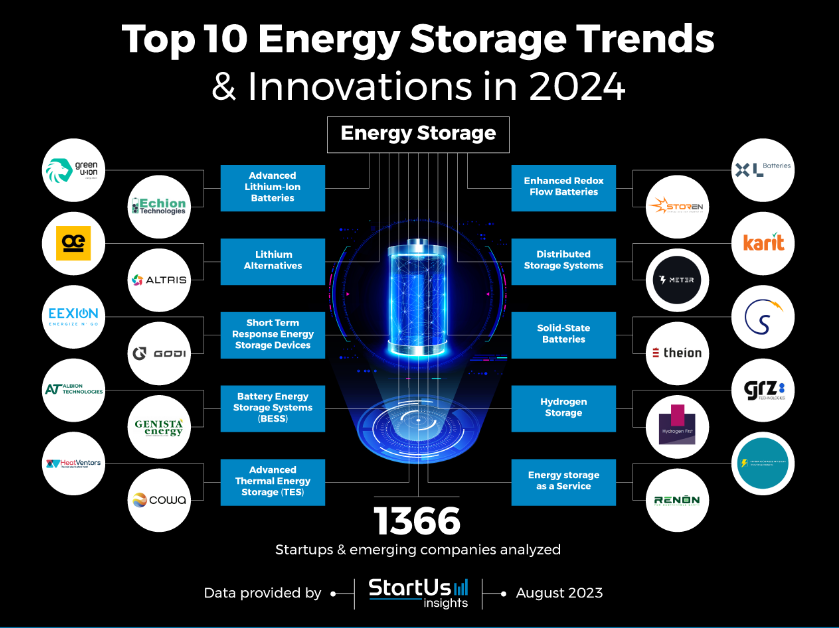 These insights are derived by working with our Big Data & Artificial Intelligence-powered StartUs Insights Discovery Platform, covering 3 790 000+ startups & scaleups globally. As the world's largest resource for data on emerging companies, the SaaS platform enables you to identify relevant technologies and industry trends quickly & exhaustively.
Tree Map reveals the Impact of the Top 10 Energy Storage Trends
Based on the Energy Storage Innovation Map, the Tree Map below illustrates the impact of the Top 10 Energy Industry Trends. Companies and research organizations are developing advanced lithium battery chemistries and lithium alternatives. These innovations combat the peak energy demand from the grid. The immediate need to control this energy demand is advancing utility-scale and distributed energy storage solutions.
The electric vehicle (EV) and electronics industry depending on electric grids and on other distributed energy sources require quick charging and, hence, there is a growing demand for short-duration energy storage (SDES) devices. Due to the low recyclability and rechargeability of lithium batteries, alternate forms of batteries such as redox and solid-state are also rising. Additionally, innovative thermal and hydrogen storage technologies reduce the carbon footprint of the energy storage industry. Lastly, industrial energy consumers are leveraging energy storage as a service to incorporate renewable energy and address energy demands.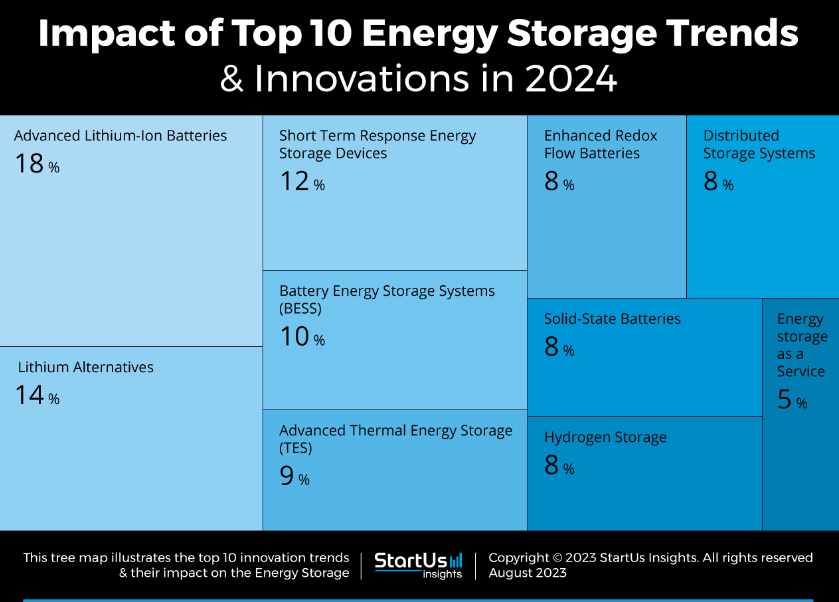 Global Startup Heat Map covers 1366 Energy Storage Startups & Scaleups
The Global Startup Heat Map below highlights the global distribution of the 1366 exemplary startups & scaleups that we analyzed for this research. Created through the StartUs Insights Discovery Platform, the Heat Map reveals that UK and US see the most startup activity, followed by other Western European countries.
Below, you get to meet 20 out of these 1366 promising startups & scaleups as well as the solutions they develop. These energy storage startups are hand-picked based on criteria such as founding year, location, funding raised, and more. Depending on your specific needs, your top picks might look entirely different.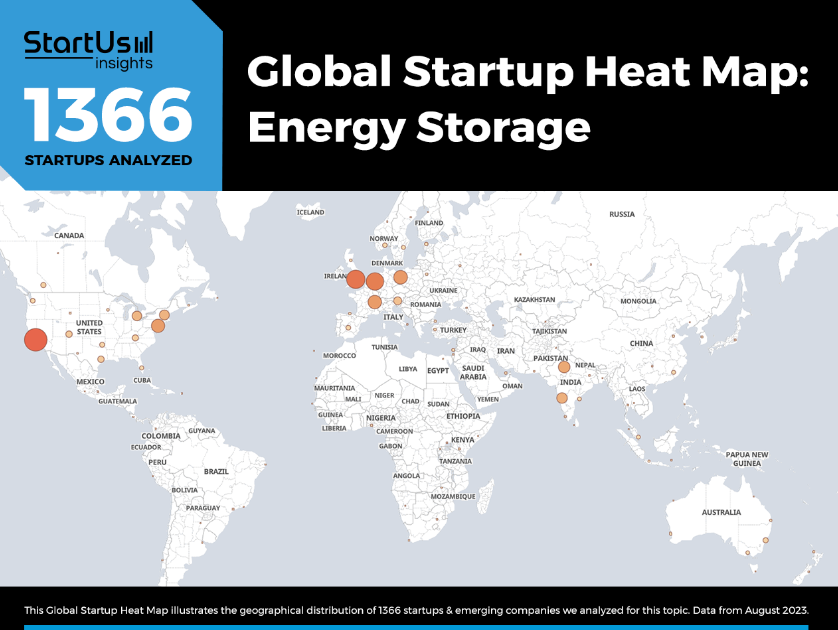 Top 10 Energy Storage Trends in 2024
1. Advanced Lithium-Ion Batteries
Lithium-ion batteries offer advantages such as portability, fast recharging, low maintenance, and versatility. However, they are extremely flammable, sensitive to high temperatures, require overcharge or complete discharge protection, and suffer from aging. Moreover, there is a huge environmental implication to mining the components for battery manufacturing.
Therefore, startups are modifying lithium-ion batteries to increase their performance and lifetime. To achieve this, lighter and energy-dense materials like li-polymer, li-air, li-titanate, and li-sulfur replace the traditional lithium-cobalt electrodes. In addition, some startups recycle used batteries, advancing the circular economy.
Green Li-ion advances Lithium-ion Battery Recycling
Green Li-ion is a Singaporean startup that recycles lithium-ion batteries to produce battery cathode. The startup's modular processing plants use co-precipitation hydrometallurgical technology in contrast to the conventional processes that use leaching reagents. This results in purity enhancement while reducing the production time of the rejuvenated cathode. Battery manufacturers utilize this solution for recycling batteries without the need for sorting.
Echion Technologies produces Lithium-ion Anode Material
UK-based startup Echion Technologies produces lithium-ion battery anode material for super fast charging. The startup's anode material uses a proprietary mixed niobium oxide (XNO) technology which includes designing microcrystals with diffused lithium-ion. This enables fast charging without the need to use nanosized powders. Due to their high energy density, the applications of these anodes range from consumer electronics to the EV industry.
2. Lithium Alternatives
Lithium batteries are not environmentally friendly and it is hard to keep up with the increasing demand for lithium. These limitations are encouraging companies to look for alternative battery materials that power the next generation of battery storage. For instance, zinc-air batteries are a viable alternative to lithium given zinc's abundant supply, inherent stability, and low toxicity.
Another efficient alternative is sodium-sulfur batteries. These batteries feature longer lifespans, greater charge/discharge cycles, high energy density, and are fabricated of relatively inexpensive materials. Some other promising battery chemistries are aluminum ion batteries, magnesium ion batteries, nickel-zinc batteries, and silicon-based batteries.
Offgrid Energy Labs develops Zinc-based Battery Technology
Indian startup Offgrid Energy Labs develops ZincGel, a proprietary battery technology. It uses a highly conductive zinc electrolyte and carbon-based cathode. The zinc electrolyte is self-healing, temperature-stable, and does not evaporate, thereby warranting a higher life. Moreover, the lack of side reactions and gas evolution ensures high coulombic and roundtrip efficiency. Two-wheeler EV manufacturers leverage this technology as a safe, eco-friendly, non-flammable, and sustainable alternative to the lithium-ion battery.
Altris creates Sodium Battery Cathodes
Altris is a Swedish startup that creates Fennac, a cathode material for use in sodium-ion batteries. The startup produces it using patented low temperature and pressure synthesis technology. It offers a low-cost, sustainable alternative to other electrode materials like alloys and hard carbon, without sacrificing performance. Battery-producing companies use this solution to implement it into their existing production lines and also find use in applications such as photochromic windows.
3. Short Term Response Energy Storage Devices
Devices such as supercapacitors, flywheels, and superconducting magnetic storage have existed for a very long time. Current battery technologies harness their potential in offering high power density for shorter time fractions. Even though they discharge quickly, they improve the quality and reliability of the power grid during transient periods such as after system disturbance, load changes, and line switching.
They also prevent the collapse of power grids due to voltage instability. Further, several startups integrate SDES into fuel cell applications to improve the charge-discharge cycle of electric vehicles. Many cities are also coupling their energy storage systems to SDES and noticed improvements in overall energy storage and charge cycles.
EEXION makes Supercapacitors
Israeli startup EEXION enables energy storage using supercapacitors. The startup's proprietary product, Energize-N'-Go, is a chemically manipulated cell that uses pure carbon materials to achieve faster charging in comparison to rechargeable batteries. The recyclability and a near-infinite number of charge-discharge cycles make it apt for electric mobility applications.
GODI manufactures Hybrid Capacitors
GODI is an Indian startup that manufactures biowaste-derived hybrid capacitor material. The startup's capacitor combines activated carbon and graphene which delivers short-term peak power required for fast charging. The extension of the solution from cell to module-level finds applications in automotive, renewable energy, and regenerative braking.
4. Battery Energy Storage Systems
Even though renewable energy technologies are more efficient and economical than ever before, they are highly intermittent in nature. Therefore, they need complementary solutions to fill in the availability gaps. Long-duration energy storage solutions ensure that renewable energy dominates power plant expansion but also overtakes traditional sources of energy.
As more and more clean energy sources are tied to the grid, the electricity infrastructure becomes better suited to tackle the changing demands. The risk of disruption also reduces significantly. Moreover, large-scale renewable energy storage improves the overall resilience of energy systems and accelerates the clean energy transition.
Albion Technologies offers a Smart Battery Energy Storage System
UK-based startup Albion Technologies makes battery energy storage systems (BESS) that serve renewable energy providers, developers, and grid operators. The startup's product, Smart BESS, is a containerized system that enhances the battery lifetime and delivers over 90% usable energy. The solution is flexible and can be deployed almost anywhere and integrated with other units to meet diverse power and energy requirements.
Smart BESS is equipped with all the essential components, such as batteries, inverter, HVAC, fire protection, and auxiliary systems. It complies with the G99 UK national grid standards and enables the storage of clean energy from renewable sources, thereby reducing CO2 emissions and oil consumption.
Genista Energy designs Lithium-Iron Phosphate Battery Storage
Genista Energy is a UK-based startup that designs a lithium-iron phosphate-based battery energy storage system. It consists of a large container with several battery strings. The startup interconnects several such containers to obtain a scalable system to provide power in remote locations. Genista Energy offers power to industrial and commercial buildings while providing renewable energy management and an alternative to diesel generators.
5. Advanced Thermal Energy Storage
Heat storage, both seasonal and short-term, is an important means for affordably balancing high shares of variable renewable electricity production. The process of thermal energy storage includes providing heat to the storage system for removal and use at a later time. Conventionally, heating companies store hot or cold water in insulated tanks to use when demand increases to manage peaks in district heating and district cooling.
However, the developments in the few years showcase the use of new mediums such as molten salts, eutectic, and phase-changing materials to store heat energy. The most common application for thermal energy storage is in solar thermal systems. This overcomes the challenge of intermittent renewable energy and enables access to stored solar power at night.
HeatVentors offers Phase Changing Material (PCM)-based Thermal Storage
Hungarian startup HeatVentors makes phase-changing material-based thermal energy storage systems. The startup's product, HeatTank, uses melting and solidification of phase change materials to store thermal energy. The use of these PCMs also saves space, energy, and cost by balancing the efficiency of the cooling and heating system. Companies providing heating, ventilation, and air conditioning (HVAC) systems utilize this solution to improve stability and peak performance management.
Cowa Thermal Solutions produces Capsule-filled Heat Tanks
Cowa Thermal Solutions is a Swiss startup that produces capsule-filled heat tanks for thermal energy storage. The startup's solution, BOOSTER CAPSULES, utilizes naturally occurring salts as raw materials. The capsule-filled tanks have three times the storage capacity compared to normal water storage tanks without capacity or stability loss. As a result, the heating tank becomes energy-dense and less dependent on the main power. The distributed energy industry leverages this solution in combination with a photovoltaic (PV) system to provide continuous heating.
6. Enhanced Redox Flow Batteries
Redox flow batteries are used as fuel cells or rechargeable batteries. They consist of two interconnected tanks both containing electrolyte liquids and oppositely charged electrodes, where ions pass from one tank to another via a membrane. Redox flow batteries offer longer lifespans than lithium batteries as the flow of current from one tank to another does not degrade the membrane.
Moreover, due to their flexible system design and easy scalability, they offer great potential for utility-scale integration of renewable energy. Advances in the field focus on developing new redox chemistries that are cost-effective and offer greater energy density.
XL Batteries offers Saltwater-based Flow Batteries
US-based startup XL Batteries offers saltwater-based non-corrosive flow batteries. The startup uses organic molecules from inexpensive, industrial feedstock to store charge in the battery. Since dissolved charge storage molecules flow over electrodes in a separate stack during charging and discharging, independent sizing is possible. The mild salt water-based chemistry also renders the battery inexpensive in comparison to vanadium flow batteries. The utility industry leverages this technology as an alternative to expensive lithium-ion batteries.
StorEn Technologies develops Vanadium Flow Batteries
StorEn Technologies is a US-based startup that develops vanadium flow battery technology. The property of vanadium allows the production of batteries with only one electroactive element as opposed to two, eliminating metal cross-contamination. They overcome the issue of decay and capacity loss in lithium batteries. StorEn Technologies' batteries are apt for telecom tower batteries that source power from the electrical grid and renewable energy in off-grid locations.
7. Distributed Storage Systems
Energy generation and storage systems traditionally follow a centralized architecture. This increases grid failure risks during high energy demand periods, which may disrupt the energy supply chain. Distributed storage systems, on the other hand, address this challenge by allowing individual facilities to produce energy on-site and retain it for personal needs.
Energy producers are also able to sell the excess energy to the grid. Distributed energy storage solutions such as EVs, microgrids, and virtual power plants (VPPs) avert the expansion of coal, oil, and gas energy generation. Moreover, they enable greater reliance on renewables through the integration of local energy storage solutions like rooftop solar panels and small wind turbines.
​MET3R advances Vehicle-to-Grid (V2G) Management
​Belgian startup MET3R aids V2G management. The startup's platforms, ZenCharge, ZenSite, and ZenGrid, utilize artificial intelligence (AI) to optimize fleet charging and reduce grid impact due to the charging site. Moreover, they provide insights on managing loads related to EV charging. Energy distribution companies leverage the startup's platform to monitor the status of distributed energy assets (DERs) on low-voltage networks.
Karit provides Virtual Power Plants
Australian startup Karit offers virtual power plants. The startup combines a number of distributed energy assets such as generation and storage systems into a VPP. By consolidating the distributed energy assets, energy retailers ensure efficient power supply to customers while moving surplus energy into the market. Energy retailers and multi-site organizations use VPPs to enable predictive energy storage and management.
8. Solid-State Batteries
Conventional liquid electrolytes are highly combustible and have low charge retention and operational inefficiencies in extreme temperatures. To address these challenges, solid-state batteries replace the flammable liquid electrolyte with a solid compound that facilitates ion migration. Startups now use electrolytes like polymers and organic compounds that offer high ionic conductivity.
Additionally, solid electrolytes support the use of high voltage high capacity materials for battery manufacturing. This enables greater energy density, portability, and shelf life. Since solid-state batteries offer a greater power-to-weight ratio, they are also an ideal choice for use in EVs.
Solid State Battery (SSB) Incorporated makes Polymer-based Solid-State Electrolytes
SSB Incorporated is a US-based startup that makes polymer-based solid-state electrolyte material. The startup's solid electrolyte combines polymer and ionic materials to improve ion mobility. In comparison with conventional liquid electrolytes, this material has high energy density while improving electrochemical and thermal stability. The solid-state separator allows packaging of these electrolytes into lithium batteries and also in larger applications such as vehicles or planes.
Theion offers Solid-State Crystal Sulfur Batteries
Theion is a German startup that devises solid-state crystal sulfur batteries. The startup uses direct crystal imprinting (DCi) to develop wafers from molten sulfur. Its proprietary solid-state polymer electrolyte operates within the voids of these wafers where lithium metal foil acts as an anode.
The advantages of this solution over conventional batteries include long cycle life, fast charging, low cell cost, and safety. Theion's technology finds use in solutions ranging from smartphones and computer batteries to energy storage in cars and airplanes.
9. Hydrogen Storage
Hydrogen exhibits the highest heating value per mass of all chemical fuels while also being regenerative and environmentally friendly. It is stored physically either as gas or liquid. Storage as a gas typically requires high-pressure tanks whereas liquid storage requires cryogenic temperatures.
To economically store hydrogen, startups are designing innovative processes and storage tanks. In terms of storage types, recent trends indicate a shift towards the adsorption of hydrogen on solid surfaces and through chemical reactions. The applications of hydrogen storage range from use in cars as a clean fuel to portable power supply for buildings.
GRZ Technologies manufactures Solid-state Hydrogen Batteries
Swiss startup GRZ Technologies manufactures solid-state hydrogen storage systems. The startup stores hydrogen in atomic form within a metallic structure. This ensures greater safety while providing high volumetric density and a longer lifetime. The standardized stacks enable desirable storage capacity for obtaining stationary and portable power for the transportation industry.
Hydrogen First designs Composite Hydrogen Pressure Vessels
Hydrogen First is a Polish startup that designs composite overwrapped hydrogen pressure vessels. The flat vessel has an isotensoid shape with reinforcement studs across its thickness to store the compressed hydrogen. Its design facilitates carbon fiber reduction, thereby reducing the weight and cost of hydrogen storage. These flat composite containers find applications in the aerospace and automotive industry for storing hydrogen in gaseous, liquefied, supercritical, or cryogenic forms.
10. Energy Storage as a Service
There are several setup costs associated with the installation of energy storage infrastructure and long-term ownership leads to locked-in capital and stranded assets. Energy storage as a service allows businesses to obtain a reliable power supply at zero asset investment and low implementation costs. It enables facilities to evaluate the value of an energy storage solution.
This approach also offers maximum flexibility when market conditions shift. Further, energy storage as a service aids utilities in congestion management, seasonal peak demand management, and tackling grid infrastructure failures. Moreover, consumers in remote locations with weak or no grid connection benefit from increased grid flexibility and efficiency.
Hybrid Greentech simplifies Energy Storage Management
Danish startup Hybrid Greentech offers HERA, an AI-based energy storage management platform. It combines longer-term optimization models and short-term machine learning models to decide the optimal operation of energy storage assets.
This enables detailed operating expenses (OPEX) modeling in early concept development to ensure the best investment decisions. A variety of industries such as hybrid power plants, micro-grid, and electric mobility companies leverage this technology for advanced energy storage analytics.
Renon India makes Smart Battery Management Systems (BMS)
Renon India is an Indian startup that develops ARK, a smart battery management system. It performs passive balancing of cells by voltage measurement and temperature sensing. This ensures functional safety, efficiency, and performance of the battery packs. These ARK systems are suitable for batteries storing solar energy in commercial and industrial applications.
Discover all Energy Storage Trends, Technologies & Startups
Energy storage companies utilize advances in the sector to increase storage capacity, efficiency, and quality. Long-duration energy storage such as BESS plays a vital role in energy system flexibility. Battery energy management systems and VPPs, on the other hand, impact transmission and distribution grids. Additionally, standardization in storage systems, along with a network of distributed energy sources, will ultimately tackle challenges due to increasing energy demands and energy transition.
The Energy Storage Trends & Startups outlined in this report only scratch the surface of trends that we identified during our data-driven innovation and startup scouting process. Among others, lithium alternatives, hydrogen economy, and supercapacitors will transform the sector as we know it today. Identifying new opportunities and emerging technologies to implement into your business goes a long way in gaining a competitive advantage. Get in touch to easily and exhaustively scout startups, technologies & trends that matter to you!