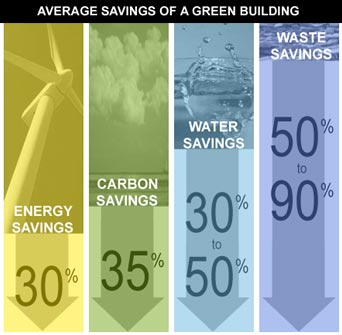 A study by the MIT Collaborative found that Green Facilities provide substantial financial benefits over conventional facilities. It was found that sustainable facilities can reduce 20-year life cycle costs between $49.90/ft
2
and $66.30/ft
2
.
The Total Cost of Ownership includes Acquisition Cost, Utility Costs, Maintenance Cost and Disposal Cost.
Financing alternatives combined with Utility Company rebates, tax credits, Depreciation benefits reduce the investment and improve the ROI.

Emerald Skyline Corporation integrates a holistic approach to developing and operating the built environment by advising and assisting developers, building owners, managers, tenants and other facility stakeholders in the evaluation, selection and implementation of sustainable strategies and practices.  We are devoted to the creation and implementation of sustainable facility solutions for office and industrial buildings, shopping centers, hospitality, health care, multi-family and mixed use facilities as well as other commercial properties.
Today's competitive market environment requires building owners to earn a significant portion of their return by making their assets certifiably sustainable which both reduces cost and improves market  value. In addition to providing sustainable facility solutions, Emerald Skyline Corporation is dedicated to the swift, aggressive and uncompromising pursuit of your financial and non-financial sustainability objectives.