By: Oliver Warren
View the original article here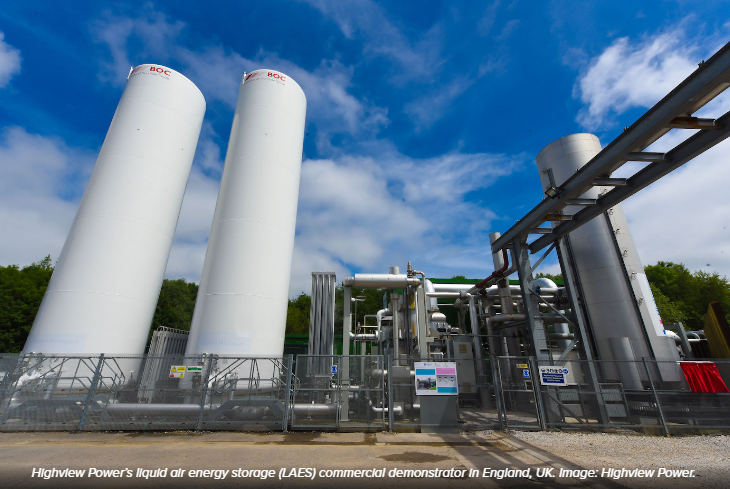 The global need for grid-scale energy storage will rise rapidly in the coming years as the transition away from fossil fuels accelerates. Energy storage can help meet the need for reliability and resilience on the grid, but lithium-ion is not the only option, writes Oliver Warren of climate and ESG-focused investment bank and advisory group DAI Magister.
Dubbed the "decade of delivery" by the World Economic Forum (WEF) and the 'Decade of Action' by the International Renewable Energy Agency, the 2020s is a crucial decade for the energy transition. However, to realise the full potential of renewables and meet ambitious energy transition objectives, we must have the capacity to store energy more effectively.
Many stakeholders are pinning their long-term storage hopes on lithium-ion (Li-ion) battery storage solutions, with this market expected to grow by almost 20% per year between 2022 and 2023, according to Precedence Research.
But the reality is that, although Li-ion batteries have an important role to play on the road to net zero, this technology is neither robust nor versatile enough to single-handedly fulfil energy storage requirements.
As a result, a diverse range of alternative grid-scale solutions that can deliver an unprecedented expansion in storage capacity are needed to offset our reliance on Li-ion batteries and drive the renewable energy transition.
Ramping up capacity
According to the International Energy Agency (IEA), to decarbonize electricity globally the world's energy storage capacity must increase by a factor of 40x+ by 2030, reaching a total of 700 GW, or around 25% of global electricity usage (23,000TWh per annum). For comparison, this would be like swelling the size of the UK's land to that of the USA.
Similar to how "nobody ever gets fired for buying IBM", lithium-ion holds a similar place in grid scale electrical storage today. With the 2020s being the decade of energy storage, investors need to focus on alternative storage solutions which may require higher capex up front, but deliver lower long term levelized cost of electricity and longer asset lifetime.
Li-ion batteries, long touted as a vital technology for grid-scale storage, are neither feasible nor sustainable. Cobalt extraction, a fundamental component of Li-ion batteries, is highly toxic and polluting. Limited cobalt supply is a major issue, especially considering the rapidly growing demand for electric car batteries and backup generators. Relying solely on Li-ion technology also leaves us vulnerable to a single supply chain and the availability of access to critical elements e.g., cobalt, in some of the most volatile regions of the world, such as the Democratic Republic of the Congo (DRC).
That isn't to imply that Li-ion batteries don't have their place, but they should target fast frequency response rather than load following. Li-ion batteries are best suited to replace gas-fired peaking plants e.g., open cycle gas turbines (OCGTs) and supplement pumped hydro during evening peaks. However, they lack the capacity and duration (more than a few hours of drawdown) to load follow, unlike combined cycle gas turbines (CCGTs), throughout the course of a day.
They are also prone to damage from failing to complete full discharge and recharge cycles although battery analytics companies such as PowerUp and Twaice are trying to solve this problem.
In addition, Li-ion batteries have limited lifespans of up to 10 years before needing replacement. All these factors make Li-ion batteries unviable at grid scale and necessitate the use of alternatives.
Vehicle-to-grid (V2G) technology, which will enable the aggregation of part of the storage capacity of the more than 140 million electric vehicles expected globally by 2030, could bring more than 7TWh in Li-Ion-based additional energy storage that can be drawn from at a moment's notice, but faces the similar limitations as grid based Lithium Ion batteries.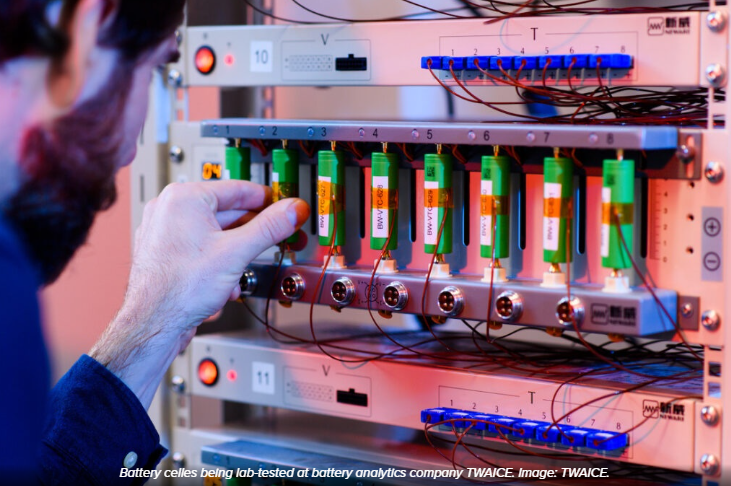 Viable grid-scale storage alternatives
No single killer application or technology exists to get the job done. Diversification is key with success dependent on the wide-scale adoption of multiple grid-scale energy storage solutions:
Compressed air/gas storage
New compressed air and gas storage technologies offer a novel way of storing energy as compressed air or gas. They can store more energy in a smaller space and for more extended periods than other forms of energy storage like batteries.
Italian start-up Energy Dome has found an unexpected way to store green energy. The company's ground-breaking long-duration energy storage system compresses CO2 into a liquid and stores it in a massive, pressurised dome. CO₂ has a higher density than air which results in denser energy storage and doesn't need advanced materials and expensive insulation compared to liquid air at cryogenic temperatures.
Augwind Energy is an Israeli technology company revolutionizing energy storage at scale by storing compressed air underground in large tanks made from unique polymers. The company's AirBattery solution uses only air and water to store energy safely and cost-effectively at high capacity for long durations.
The solution uses an external energy source, be it from the grid or renewable sources to power water pumps. AirBattery can run endless cycles for decades with no degradation and at a minimal cost.
Cheesecake Energy is a UK-based spinout company founded on thermal and mechanical energy storage research undertaken at the University of Nottingham. The company has developed eTanker, a new energy storage system that stores electricity as heat and compressed air. Electric motors operate compressors that store air and heat at high pressure in storage units to store energy. To produce electricity, the same compressors act as expanders, which turn a generator.
The eTanker is a long-lasting (20+ years) and environmentally friendly energy storage solution built from recyclable raw materials. It can deploy across a variety of static applications such as industry, agriculture, transport, and renewable generation, replacing the need for lithium-ion batteries.
Highview Power also hails from the United Kingdom. The company has developed a large-scale energy storage system for utility and distribution power networks. Highview's low-cost liquid-air energy storage solution uses the process of cryogenic cooling to store energy for future use.
The system gathers energy from renewable sources like wind and solar and stores it in tanks as liquid air at low temperatures. Liquid air gets heated when required, causing the stored energy to release as a gas. This gas is then used to generate electricity by powering turbines.
Highview plans to raise £400 million (US$483.5 million) to build the world's first commercial-scale liquid air energy storage (LAES) plant to boost renewable power generation in the UK. Of the £400 million, the company intends to spend £250 million to construct a 30MW storage plant that can store 300MWh of electricity. The remaining £150 million would go towards engineering for a further four sites. Highview already has a 5MW pilot plant in operation in England.
Innovative pumped hydro
Innovative pumped hydro energy storage (PHES) uses renewable energy to pump water from a lower reservoir to an upper reservoir. During periods of high demand, the water releases from the upper reservoir to generate electricity. This type of energy storage is more efficient and cost-effective than traditional pumped hydro and requires less land.
Ocean Grazer, a Dutch start-up, has come up with a unique offshore energy storage system that can deploy at the source of power generation. The Ocean Battery is a pumped hydro system that stores energy from offshore wind farms by pumping water back and forth into flexible bladders where it is stored at different pressures. When there is a demand for power, water rushes back from the bladders to the reservoirs driving multiple hydro turbines to generate electricity.
The Ocean Battery is significantly less expensive to build than existing large-scale lithium-ion battery systems, which require massive platforms made from sea containers. Furthermore, the Ocean Battery has a far longer lifespan, lasting up to one million charging cycles, compared to the 5,000-10,000 offered by lithium-ion batteries.
RheEnergise has developed a 'High-Density Hydro' system that stores and releases electricity from hills rather than mountains or dam walls. In contrast to other systems, it uses a non-toxic, high-density additive for its closed-loop pumped storage. This allows it to create 2.5x the energy of traditional pumped storage systems while also having reduced environmental impacts and lower costs.
The High-Density Hydro system has the potential to enable hillsides across the UK to store energy for the country's electricity supply, considerably expanding the range and output of pumped storage. The company expects to have its first commercial system operational by 2024.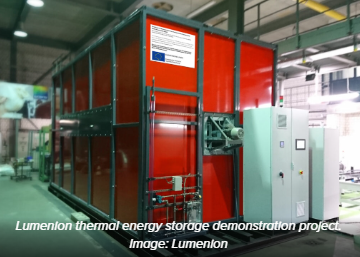 Thermal energy storage
Thermal energy storage works by storing thermal energy as heat, usually in a material such as water, rock, or soil. Heat gets stored in various ways, including using phase-change materials, which absorb and release heat at specific temperatures. The stored heat can then generate electricity. Thermal energy storage can store excess energy from solar, wind, or other renewable sources during peak energy demand hours or when the renewable source is unavailable
Lumenion is a renewable energy storage technology company that provides large-scale energy storage solutions. The company's TESCORE solution is a high-temperature storage system that stores fluctuating wind and solar PV power as thermal energy with virtually loss-free conversion.
Japanese companies Toshiba, Marubeni and Chubu Electric Power have collaborated with the support of the Japanese Ministry of the Environment to develop a pilot rock-based thermal energy storage system that's more environmentally friendly and efficient than lithium-ion batteries and hydrogen.
The system has a capacity of 100kWh and can use storage materials such as crushed stone, bricks, molten salt, and concrete. Thus far, it's claimed that the system can store heat at temperatures above 700°C with a small heat storage tank.
Over the next few years, the goal is to build a larger facility with 500kWh capacity and launch commercial projects based on rock heat storage technology.
Gravity storage
Gravity storage is a form of energy storage that utilizes the force of gravity to store and release potential energy. It works by raising weights, typically made of concrete, bricks, or rocks, and then releasing them to generate electricity when needed.
Energy Vault, based out of Switzerland, is a market leader in gravity storage. The company's breakthrough technology was inspired by pumped hydro plants that rely on the power of gravity and movement of water to store and discharge electricity.
Their solution employs a proprietary mechanical process and energy management system to store and dispatch electricity. When renewable energy generation is high, the solution harnesses that energy to lift 30-tonne bricks to an elevated height with potential energy stored in the bricks. The system releases kinetic energy back to the grid through the controlled lowering of the bricks under gravitational force to generate electricity.
The management system orchestrates the energy charge/discharge while accounting for various factors, including energy supply and demand volatility, weather elements and other variables.
Storage is a fundamental enabler of the energy transition
Our ability to expand energy storage capacity is one of the most pressing issues that will determine whether this defining 'transitional' decade is a success. But we'll need to invest wisely into the right technologies that get the greatest bang for the buck (in terms of GWh capacity and return on capital) given the limited lifespan of Li-Ion and the decarbonization of the grid.
At a current capital cost of US$2,000 per kW quoted by the US National Renewable Energy Laboratory (NREL) for 6-hour Li-ion battery storage, the 700GW of capacity needed by 2030 equates to around a US$1.5 trillion market over the coming decade, making it worth nearly US$200 billion a year.
Annual investment worldwide into promising energy storage companies is currently running at only US$9 billion in 2022 according to Pitchbook. As the crucial nature of this market becomes more and more clear to investors, there needs to be an exponential increase in investment. Within energy transition, the market for energy storage offers one of the largest 'blue-ocean' opportunities for investors available anywhere in the world today.